About Us
Bringing Hope to Your World
Dr. Thomas Schmidt began practicing in 1984 as the youngest chiropractor in the state of Minnesota at the time. Woodbury and the Twin Cities East Metro has been home to him for over three decades. Dr. Schmidt provides chiropractic and wellness care at our Christian-based clinic for thousands of people here in the St. Paul Suburbs, Woodbury and western Wisconsin areas.
When you enter out practice as a patient, we strive to bring you hope in the form of healing and natural wellness. We believe that when your body is functioning as it was designed, you'll feel better, live fuller and experience life as it was meant to be experienced. Imagine being able to easily play with your grandchild, or perform daily tasks without pain and recovery from injury quicker.
We hope to bring you all of these things and more. Best of all, our care is based on science.
How Chiropractic Can Help You
Dr. Schmidt's extensive training allows him to provide health care for many different health conditions. His highly skilled diagnosis process and specific adjustment techniques provide a strong foundation to create a science-based program to correct your spine. Dr. Schmidt specializes in:
Results-Driven Chiropractic
At Schmidt Chiropractic Clinic, we listen to you and show you the respect you deserve. We want you to see results, but more importantly, we want you to fully understand what's going on in your body and what we can do to correct the problem. We believe that when you're a partner in your care, you'll experience better health and benefits from your sessions. We lay out the three stages of care from the beginning, so you can choose which program of care is appropriate for you:
Relief Care. Your treatment plan will be focused on relieving pain and other symptoms.
Corrective Care. This treatment plan focuses care on correcting and rehabilitating your spine and nervous system, and in many cases, after the pain and symptoms you originally came in with have alleviated.
Maintenance Care. Regular adjustments slow down the arthritic processes prevalent in many as we age thus allowing you to continue experiencing health and living the active lifestyle that you so deserve as you age.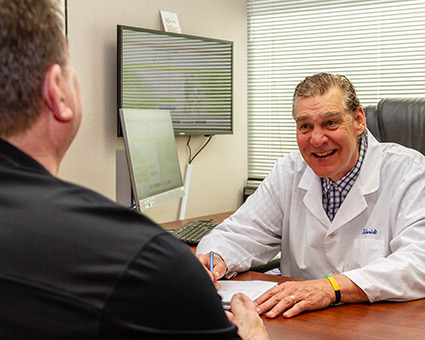 Science-Based Measurements
A thorough screening is performed for each of our patients to concentrate on giving you a precise and scientific diagnosis.
We evaluate your body's structural alignment and balance with a diagnostic laser. Advanced and precise digital x-rays may be also taken to show you where the problem areas have been identified. This leading-edge scientific technology allows us to put your health into metrics.
Schedule Your Visit Today
If we cannot help you, we will assist you in finding a different health care professional who can.
Don't wait. Contact our practice to schedule your appointment!

About Schmidt Chiropractic Clinic | (651) 735-2400