Foot Levelers and Custom Orthotics at
Schmidt Chiropractic Clinic
What Can Your Feet Tell You About Your Spinal Health?
Your feet are the foundation for the health for the rest of your body. Ankle pain, plantar fasciitis, knee pain, hip pain, and back and neck problems can all result from the lack of structural integrity in the arches of your feet.
Custom-made orthotics by Foot Levelers (the industry leader in custom-made scientific foot orthotics) can make a great difference in your health. Even if your feet don't hurt, each patient is scanned with our 3D BodyView digital laser system (using the same precision technology that is used for industrial inspection of jet engines) to determine the percentage of weight bearing on your body midline and any imbalances in the structural skeletal alignment (i.e. the kinetic chain).
Like any structure, your body's foundation must be balanced to support the weight above it. If any of the three arches in one or both of your feet collapse, your body doesn't get the correct postural support, thus causing an imbalance in your skeletal frame and contributing to the advancement of degenerative processes.
Each custom orthotics patient is scanned with a digital laser screening to determine the percentage of weight bearing on midline and any imbalances in the structural skeletal alignment.
Download the Product Catalogue »

The Foundation of Good Health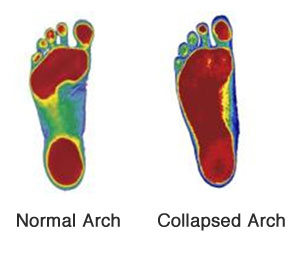 At Schmidt Chiropractic Clinic, we are always looking for ways to improve the health of comfort of our patients and their families. Our 3D BodyView imaging system allows us to:
Check your foundation. We will take a laser scan of your feet and analyze if and where your arches may have fallen.
If needed, we will recommend a pair of custom-made functional orthotics that will help bring your spinal pelvic structure back into alignment. This alignment can help improve your balance, coordination, peak performance and even prevent injuries. They might also help prevent the need for a joint replacement surgery as each orthotic comes equipped with high grade shock absorption cushioning.
Our functional arch supports are especially important to our patients as most want to maintain a healthy and active lifestyle as they age.
If you've never had your feet scanned, you probably don't know what they are supposed to look like or if your arches are normal or collapsing. Don't wait for aches and pains to tell you there is a problem. Take the first step toward protecting your health and fitness!
Discount Codes
R22
Save $22 on any reorder for a current patient. (Patients who want to re-order)*
TAKE2
Purchase 1 pair, get a second pair for yourself for 1/2 price! (Buy 1 get 2nd 3rd 4th pair on same day 1/2 off)
SERVE
Active Military and Veterans get 15% off any pair of functional orthotics.*
Custom-Made Foot Levelers in Woodbury
Depending on Dr. Schmidt's findings, we may recommend custom orthotics to you. The scan will record areas of stress on your feet as well as up your kinetic chain from head to toes.
Dr. Schmidt will use up to 16 different points to analyze your needs in creating a shoe insert unique to your postural or structural needs.
All three arches in your feet will be supported with foot levelers custom-made orthotics based on your exact metrics. Your posture will improve and your body will have a more stable foundation. Pain in the rest of your body is reduced while your feet feel supported.
Let your body get back to the optimal alignment it is meant to have. Reach out to Schmidt Chiropractic Clinic for info about Woodbury orthotics and foot levelers!
CONTACT US »

Custom Orthotics Woodbury, Oakdale, Cottage Grove MN | (651) 735-2400