Meet Dr. Thomas Schmidt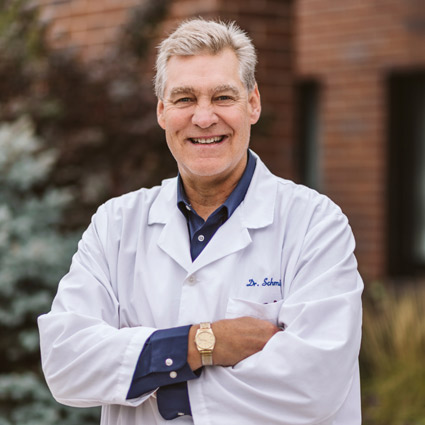 A Love of Chiropractic Care
Dr. Thomas Schmidt's interest in anatomy began at a young age. He also saw his grandfather receive chiropractic adjustments after being affected by sciatica. Dr. Schmidt's grandfather was able to return to a healthy farming lifestyle with the help of chiropractic.
Dr. Schmidt had been considering becoming a surgeon before his career decision to become a chiropractor. Seeing his grandfather's successful return to health naturally, without having to take injections or have spinal surgery, helped Dr. Schmidt decide to enter the chiropractic profession.
Training and Qualifications
Dr. Schmidt's education began at St. Cloud State University. He studied pre-medicine while there and joined the Husky football team as the student manager and assistant to the coaching staff, he played on a championship intramural basketball team and was a member of the Fellowship of Christian Athletes. Next, Dr. Schmidt attended Northwestern Health Sciences University (NWHSU) in Bloomington, Minnesota to receive his Doctorate of Chiropractic degree.
While at NWHSU, Dr. Schmidt taught X-ray, chiropractic techniques and clinical diagnosis as a teacher's assistant as he felt these areas of clinical practice needed to be his strong suit. It was also during Chiropractic College that Dr. Schmidt received a certification in sports injuries diagnosis and treatment.
Dr. Schmidt has also completed extensive studies from the San Diego Spine Institute for
Whiplash
and
Motor vehicle injuries
(diagnosis, treatment and expert court testimony.) He is a lifetime member in the Smart Injury Doctors Masters coursework for traumatic spinal injuries and the diagnoses and treatment of spinal ligament injuries.
Advocating for Patients' Rights
Dr. Schmidt's was licensed for 15 years in health and life insurance and this allows him to have a deep understanding of health insurance. He actively advocates for consumer-driven health plans.
Dr. Schmidt is driven to restore more affordability and accessibility for patients to get the care they want and need without the interference of a third-party payer. He has even worked with the United States Treasury attorney's in crafting initial HSA guidance and was one of 30 consultants given a special invitation by the Bush Administration to meet in D.C. and craft early guidance for HSA's.
OUR SERVICES »
A Family-Oriented Life
Dr. Schmidt is active in several different community events and causes. He and his family enjoy attending church together. Dr. Schmidt follows God's plan to serve Him by loving and serving our patients. Dr. Schmidt has been married to his wife Julie for 30+ years. Julie has a business degree from Bethel University. She has worked in and around the insurance administration at Schmidt Chiropractic Clinic providing solid communications between our patients and their insurance benefits. Julie is the office manager at Schmidt Chiropractic Clinic.
Dr. Schmidt's daughters Danielle and Rebekah were both well-known fastpitch softball pitchers here in Minnesota. Danielle graduated from Wheaton College in Chicago (2013) with a Health Science major and has earned a Physician Assistant post graduate degree, graduating with the top GPA in her class. Rebekah graduated from Drake University with a business major and has also completed her MBA in strategic corporate leadership from Bethel University. Both of Dr. and Mrs. Schmidt's children attended K-12 at New Life Academy in Woodbury.
Dr. Schmidt loves the outdoors and often fishes and hunts with family members and friends. His family loves the Minnesota Vikings, Twins, Wild, Timberwolves and Lynx. Dr. Schmidt has played sports, coached sports and now enjoys treating athletes as he has extensive experience with all three of these aspects of sports.
Our office is a member of the Woodbury Chamber of Commerce and many other community organizations.
Get Started Today
Make an appointment with Dr. Schmidt to get started on your journey to wellness!

Dr. Thomas Schmidt | (651) 735-2400