Spinal Decompression at
Schmidt Chiropractic Clinic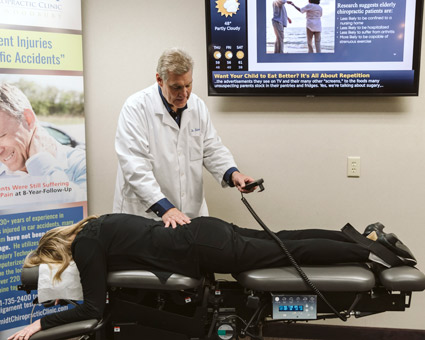 Each of us is constantly in a battle—with gravity! A frequent casualty is the soft disc material that separates each spinal bone. Pressure from our weight, trauma from an accident and other causes can increase the pressure on a weakened disc. In extreme cases, the soft pulpy center of the disc can escape. That can be quite painful.
At Schmidt Chiropractic Clinic, we use the latest technology to help relieve the effects of back pain due to herniated and degenerated discs. Since discs are constantly under weight-bearing pressure, they can be slow to heal. By gently "stretching" your spine, we help relieve pressure and enhance healing. This is called spinal decompression.
How Does Spinal Decompression Work?
First, we'll have you lie down on our specially-equipped table. Then, ever so slowly, we'll stretch your spine. And then relax it. Stretch. And relax. Our patients tell us this tractioning process is quite pleasant, even relaxing. Because they don't feel the need to "guard" their spine, each sequence helps the damaged disc receive nourishment, expel cellular waste and enjoy reduced pressure. Then, healing can begin.
While not a cure-all, our decompression table is highly effective, especially when combined with chiropractic care. Our experience shows that decompression can be helpful in supporting cases prone to frequent relapses, in fact
Dr. Schmidt
receives referrals from Orthopedic Surgeons for patients who are not yet needing spine surgery to receive spinal decompression traction therapy.
Frequently Asked Questions
How does spinal decompression help?
Spinal decompression is designed to reduce pressure on your spine and to stretch it, creating the natural space that should be between each spinal bone. Dr. Schmidt will also place his hands on your spine to help give a deeper stretch, improving the therapy for your body. This helps to loosen up the joints, and may even allow your spine to ultimately hold an adjustment for longer.
What kind of conditions can it help?
Spinal decompression is ideal for a variety of patients—from those experiencing low back pain to sciatic nerve trouble causing pain down ones leg, herniated and bulging discs, spinal ligament injuries from motor vehicle accidents, spinal arthritis that doesn't respond to typical chiropractic spinal adjustments and sports injuries among others.
How will I know if I'm a candidate?
Dr. Schmidt will work with you to develop a unique care plan that fits your body's needs. Best of all, he'll take a science-based approach and only ever recommends care that he believes will help you. If he thinks a different modality will work for you better, he'll let you know.
Does spinal decompression hurt?
Our patients find spinal decompression to be extremely relaxing and comfortable—we rarely ever hear complaints from patients that it's painful. In fact, some have even said that spending 10 minutes on our decompression table is the most stress-free part of their day. We think you'll agree.
How many sessions will I need?
We'll devise a care plan that's unique to your needs—so the frequency of your care will likely look different than anyone else's—that's because your care plan is as unique as you are. Generally, patients start to notice results after multiple sessions, though some have reported feeling better even sooner.
Schedule Your Visit
If you're wondering if spinal decompression is right for you, we'd love to speak with you. We'll only recommend care to you that we know can benefit your health. To learn more today, contact us for a visit—we can't wait to welcome you into our care.
CONTACT US »

Spinal Decompression Woodbury, Oakdale, Cottage Grove MN | (651) 735-2400