Rehabilitation at Schmidt Chiropractic Clinic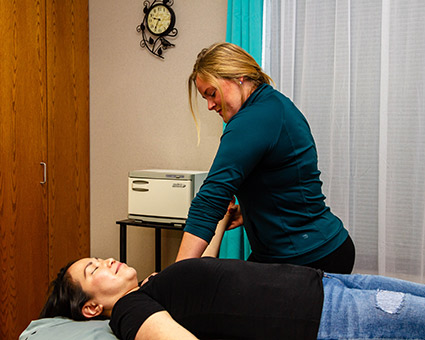 When you choose our practice for your care, we want to do our best to offer you the perfect combination of services that can bring you optimal health.
In addition to chiropractic care, we're proud to offer Intersegmental traction (IST), Cold Laser Therapy, non-surgical spinal decompression, physiotherapy, and interferential muscular rehabilitation therapies used here to restore the normal structure and function of your body through our Woodbury rehabilitation programs.
Dr. Thomas Schmidt oversees all of the unique rehabilitation programs offered at our Woodbury office. You must be a chiropractic patient to participate in a rehabilitation program at Schmidt Chiropractic Clinic.
Improving Function and Relieving Pain
Dr. Schmidt will supervise any rehabilitation you might need as part of your treatment plan.
IST induces a mild stretch and traction into the muscles and ligaments of the spine to break down spasms and help alleviate swelling.
Gentle stretching of the intersegmental disc space removes the pressure on the disc. Pain is alleviated, restoring muscles to their natural length and giving muscles their full normal function.
Rehabilitation is appropriate for:
Disk bulge and/or herniations
Arthritic conditions
Chronic knee or hip pain
Motor vehicle accidents
Personal injury cases
Sports injuries
Workers' compensation injuries
Spinal ligament injuries
Frequently Asked Questions
What does a rehab appointment at your practice look like?
When you join our practice for physical rehabilitation, we'll create a custom care plan for you that's designed to restore your health and encourage healing within the body. Your care plan will likely look different than someone else's, as your body is perfectly unique! Rehab may include other modalities, like chiropractic care, massage and more. During a physical therapy visit, we'll go over stretches and exercises to help strengthen the injured area, and discuss at-home ways to continue your support.
Do you accept insurance for rehabilitation?
Yes, however not all insurances cover rehabilitation at Schmidt Chiropractic Clinic. We will gladly check your benefits for you to determine if your care will be covered. If not, please know that we always do all we can to make care available and affordable to those who need it—we want you to be happy and healthy and are truly your health advocate.
Will you prescribe at-home exercises?
Absolutely! We're proud to use a proprietary software that allows us to prescribe a unique at-home care plan for you. The software will allow you to view exercise and stretching videos from the comfort of your own home, and show you exactly how to perform them—we'll also go over this with you in the practice. Continuing your rehabilitation at home is key in helping your body recover optimally.
How much does rehab therapy cost?
It's difficult to know exactly what your care plan will look like, but we do our best to make sure care is affordable for those who need it. We pride ourselves on being your advocate in health, and will always fight for your right to be healthy. We will always explain the financial details to you in full, and there won't ever be any surprises.
We'd Love to Connect With You
Are you interested in learning more about our rehabilitation services? Our practice is proud to work with patients of all walks of life to help them achieve their best health, naturally. If you'd like to learn more about getting started with us, please contact us today to schedule a visit. We can't wait to welcome you into our practice—and the Schmidt Chiropractic Clinic family! Get started today.
CONTACT US »

Rehabilitation Woodbury, Oakdale, Cottage Grove MN | (651) 735-2400