Cold Laser Therapy at Schmidt Chiropractic Clinic
History of Cold Laser
Einstein hypothesized in 1915 that certain light frequencies can reduce pain and inflammation, enhancing the healing process. Europe ran with this theory and perfected it.
In the 1970's, NASA incorporated these early edition healing lasers into their treatment protocols for our astronauts.
In 2005, the FDA allowed healing lasers for the general public but due to the medical profession's model of prescribing drugs for pain and suffering, a vast majority of Americans have never heard of healing lasers.
This created an opportunity for the laser industry to approach Doctors of Chiropractic to utilize these science based non-invasive therapies for pain and suffering.
Cutting Edge Technology
Our class IV, three-watt healing cold laser at Schmidt Chiropractic Clinic is used for our patients who are in acute or chronic pain and swelling from whiplash, auto accidents, sports injuries, spinal arthritis, neuropathy, knee osteoarthritis, and many more diagnoses.
Our Woodbury cold laser therapy is science-based and works at wavelengths meant to treat your problems associated with:
Arthritis
Inflammation
Pain
Scar tissue
Sports injuries
Wound healing
Leading edge scientific research on our high-powered cold laser suggests it accelerates cellular reproduction, and cellular growth and blood flow, all of which expedite the healing process.
"Excellent Results!"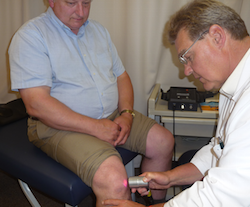 "I have had surgeons tell me that I am a candidate for knee replacement surgery but with Dr. Schmidt's adjustments, custom arch supports and the cold laser therapy, I feel 70% better after 3 months of care and I can walk better while performing my job.
I have suffered with back and knee pain for 10 years, taken numerous shots into my knees and have had 2 knee cartilage surgeries.
His plans work and I have had excellent results!!!"
- Alan S., Cottage Grove, Mn.
Keeping Woodbury Athletes Healthy with Cold Laser Therapy
Athletes of all levels, from recreational to professional, can find a great benefit through our laser, as the healing properties of our laser combines the positive therapeutic effects found in ultrasound, electrical muscle stimulation and heat therapies all combined into one therapy.
As pain and swelling are reduced in an accelerated fashion, you will be able to return to your sport activities quicker. And speaking to all of those athletes out there, no one wants to be watching the action from the sideline.
Peripheral Diabetic Neuropathy
Cold laser therapy has been helpful for patients taking prescription medicines used for neuropathy. We may be able to offer an alternative to the prescribed drugs you are currently taking.
Blood flow will be increased, and the nerve fibers in the feet and legs are stimulated. This stimulation will decrease the brain-based sensation of pain in the feet and legs.
Many types of injuries respond well to cold laser therapy. Call Schmidt Chiropractic Clinic to book your Woodbury cold laser therapy appointment!

Cold Laser Therapy Woodbury, Oakdale, Cottage Grove MN | (651) 735-2400