Auto Accidents at Schmidt Chiropractic Clinic
Support Throughout Your Healing
For over 32 years, Dr. Thomas C. Schmidt has been helping patients suffering from whiplash and other auto accident injuries. With a special certification in motor vehicle accidents and whiplash from a national medical legal research organization,
Dr. Schmidt welcomes those looking for relief and natural healing through chiropractic care.
Our experience helps us to understand how frustrating auto accidents can be, with the associated bodily pain, loss of ability to perform work or home duties, and loss of your enjoyments of life. That's why we're here to help our patients during this challenging time.
At Schmidt Chiropractic Clinic we offer:
Healing. Find relief naturally and get back to your life.
Convenience. Open late on Tuesday and Thursday nights so you can get the care you need.
Insurance. We'll submit your claims and communicate to your insurance company.
Legal help. We'll communicate with your attorney on your behalf.
What to Expect
Consultation/Examination. We will look for soft tissue damages and rule out fractures (X-rays when necessary).
Report of Findings. We'll determine the extent of your injuries, if we can help you, how long it should take to find relief.
Treatment Plan. We'll provide a written treatment plan to help you heal from whiplash or other injuries.
Referrals. We'll make appropriate referrals to other health care professionals or request further diagnostic testing when necessary.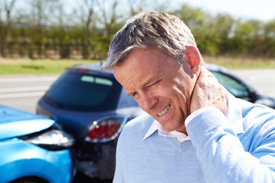 Understanding Insurance Coverage in Minnesota
Minnesota is a "no-fault" state, meaning you are entitled to chiropractic health care coverage for any injuries "arising from the use and/or maintenance" of your vehicle. No-fault means that whether you caused the accident or not, you are eligible (if your policy is current) to have your medical bills covered by your auto insurance company.
Important: Seek care as soon as possible. If you wait too long after your accident, it may be too late to be covered under Minnesota state law.
The sooner that you can be examined following an auto accident, the better. This way, we can legally document and record your whiplash or other injuries and help restore your health so you can get back to doing the things you love.
Benefits You May Be Entitled to after a Crash
Property Damage
If you were not at fault for the crash, the other driver's insurance company should pay for the damage to your car, including any deductible. The at-fault driver should pay for damage to your car even if you don't have insurance. If you have insurance, your insurance company may pay for the damage and then seek payment from the other insurance company.
If you were partially at fault, the other driver's insurance company should pay for the damage to your car based on a percentage of fault.
No-Fault Benefits
No matter who caused the accident, you may have No-Fault benefits available to you. No-Fault benefits pay for medical treatment and wage loss that are reasonable, necessary and related to the car wash.
Medical Benefits: $20,000 per person available for treatment including ER, ambulance, chiropractic, therapy, surgery, massage, prescriptions and transportation costs or mileage to and from treatment.
Wage loss, Replacement Services, Death Benefits: $20,000 per person, available for: Wage Loss: 85% of lost gross income up to $250/week/ Includes used vacation or sick pay and time lost for treatment.
Replacement Services: Up to $200 per week to cover household tasks that the primary homemaker can no longer do.
Death Benefits: Up to $200 per week for lost wages and replacement services and $2,000 for funeral costs.
If you have purchased additional coverage or have stacking available to you, you may be entitled to additional benefits.
What to Do When
You're In an Accident
Report the accident to the police.
Exchange contact and insurance information with all drivers involved in the collision.
Get names and contact information of all witnesses.
Take photographs of the scene, vehicles and damage.
Wait for the police to arrive at the scene to make a report.
Get treatment if injured and tell your treating provider of the crash.
Report the crash to your insurance company.
Follow your doctor's advice for treatment.
Do I Have a Claim Against the Other Driver?
If you are injured, you may have a claim for losses not covered by No-Fault benefits. These may include pain and suffering, disability, scarring, emotional distress, future medical expenses and wage loss.
In order to recover for your other losses, you need to prove at least one of the following thresholds:
Permanent Injury
Over $4,000 in treatment
Disability for more than 60 days
Permanent disfigurement
If the other driver does not have insurance, you may be entitled to UNINSURED MOTORIST BENEFITS (UM).
If the other driver does not have enough insurance to cover your injuries, you may be entitled to receive UNDERINSURED MOTORIST BENEFITS (UIM).
Call Today!
It is important that you call us to schedule an appointment with Dr. Schmidt soon after your accident. He can consult with you regarding the circumstances of the accident and test for spinal and bodily injury so that you can start proper treatment, find relief, and get back to living your life again!
Get in touch with our office to get started!
CONTACT US »


Auto Accident Chiropractor Woodbury, Oakdale, Cottage Grove MN | (651) 735-2400